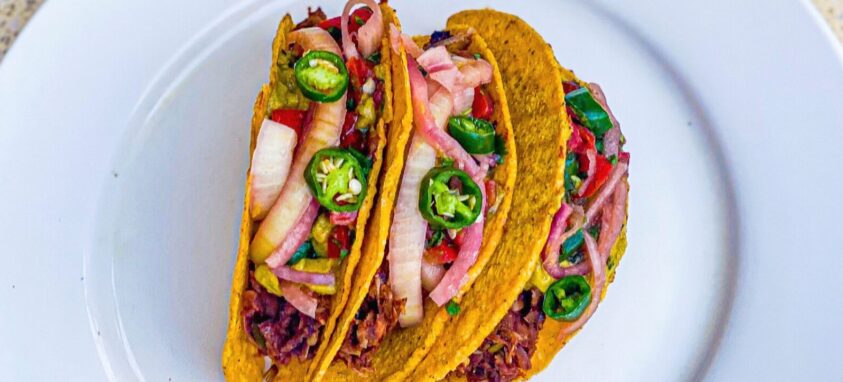 March 29, 2022
Jackfruit Tacos
Alive Tribe member @Eliza__anne came up with this incredible recipe for young jackfruit tacos using our Taco Shells.
Jackfruit is the perfect vegan replacement for pulled chicken and pork.
Healthy and DELICIOUS. This recipe will take your mind right to the heart of Mexico.
A fantastic, convenient, make ahead recipe.
The Pulled jackfruit mix is best made the day before and refrigerated overnight! Perfect for meal prepping weeks.
Eliza served these tacos with guacamole, salsa and homemade pickled onions. ( You could also add our Sauerkraut instead!)
| | | |
| --- | --- | --- |
| TIME | SERVES | DIFFICULTY |
| 1 Hour - 1 Day | 4 | |
INGREDIENTS
One kilo young jackfruit
4 tbsp olive oil
1 medium red onion, finely diced
4 cloves garlic, finely diced
1 heaped tsp ground cumin
1 heaped tsp smoked paprika
1 heaped tsp ground coriander
1 pinch ground cinnamon
2-3 pinches ground cloves
1 tsp chilli powder or flakes
2 tbsp tomato paste
4 tbsp soy sauce
3 tbsp date syrup (We substitute with coconut syrup)
¼ tsp black pepper
1 tbsp apple cider vinegar
METHOD
Boil Young Jackfruit until Tender.
Drain the water from the Jackfruit and pull apart (to a pulled pork consistency).
Heat up Olive Oil and sauté diced red onion until softened, translucent and add chopped garlic and until soft and fragrant.
Add the spices: cumin, smoked paprika, coriander, a pinch of cinnamon and cloves to the onion-garlic mixture. Fry them off gently, stirring the whole time, for a minute or so.
Mix in the tomato paste and chilli flake.
Add in the pulled jackfruit along with soy sauce, date syrup, and apple cider vinegar.
Mix everything really well. Squash the jackfruit pieces with your mixing spoon so that the individual fibres separate more. Season with black pepper.
Simmer the mixture gently for another 10-15 minutes and then allow it to cool down. Put it in the fridge overnight to immerse the flavours.
Can keep in the fridge for 2-3 days. Reheat mixture in a sauté pan and serve on hard Corn Tortillas, alongside salsa, guacamole and pickled onions!
To make the Guacamole –
Combine 2 Mashed Ripe Avocados, 1 Tsp Cumin, 1 Tsp Garlic, juice of One Lime, Salt and Pepper to Taste
To make the Pickled Onion-
1 Red Onion, 1/2 Cup Apple Cider Vinegar, 1/2 Cup of Water, 1sp Salt, 1tsp Coconut Sugar. Boil All Ingredients Together for 10 min. Let Cool Until Room Temperature. Put in a Glass Jar and Refrigerate
Salsa
8 Tomatoes, 1 Chopped Red Onion, 1 Bunch Coriander, 3 Capsicums, Juice of One Lime, Salt and Pepper to Taste. Chop and combine to serve.