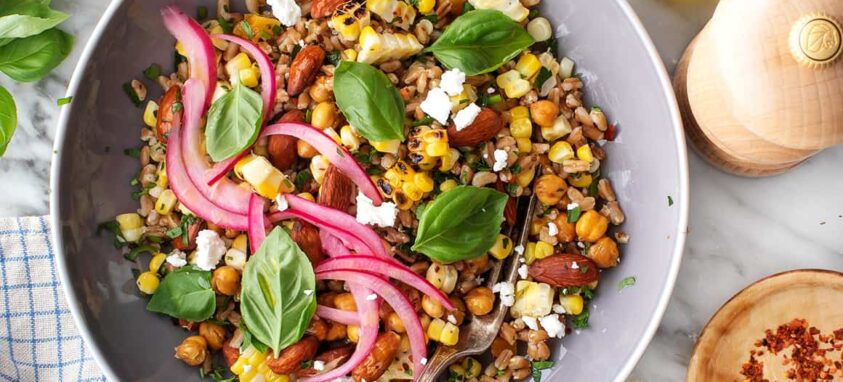 Summer Grain Salad
This summer grain salad from LOVE AND LEMONS  is so fresh and satisfying! Serve it as a side dish with grilled vegetables or your favorite protein, or pack it up for an easy, make-ahead lunch.
| | | |
| --- | --- | --- |
| TIME | SERVES | DIFFICULTY |
| 1hour | 6 | |
INGREDIENTS
1 tin chick peas, drained and rinsed or dried chick peas that have been soaked overnight and rinsed thoroughly.
3 tablespoon Extra-Virgin Olive Oil, more for drizzling
3 ears corn, husked
2 tablespoons fresh lemon juice
2 garlic cloves, grated
½ teaspoon sea salt, more to taste
Freshly ground black pepper
4 cups cooked barley from 1½ cups uncooked
⅓ cup dried apricots, diced
½ cup finely chopped fresh parsley
½ cup toasted almonds
⅓ cup sauerkraut
1 cup fresh basil leaves
2 ounces goat or feta cheese, optional
METHOD
Preheat the oven to 425°F and line a large baking sheet with parchment paper. Spread the chick peas on a kitchen towel and pat them dry. Remove any loose skins. Transfer to the baking sheet and toss them with a drizzle of olive oil and generous pinches of salt. Roast for 20 to 30 minutes, or until golden brown and crisp.
Heat a grill pan to medium-high heat. Place the corn on the pan and cook, turning every 3 to 5 minutes, until all sides of the corn are cooked and light char marks form, about 15 minutes. Remove and slice the kernels off the cob.
In a large mixing bowl, whisk together the 3 tablespoons olive oil, lemon juice, garlic, salt, several grinds of pepper. Add the barley, corn, apricots, and parsley, and toss.
Divide the salad among bowls (or into individual containers), and top with the roasted chick peas, almonds, sauerkraut, basil, and goat cheese, if using.