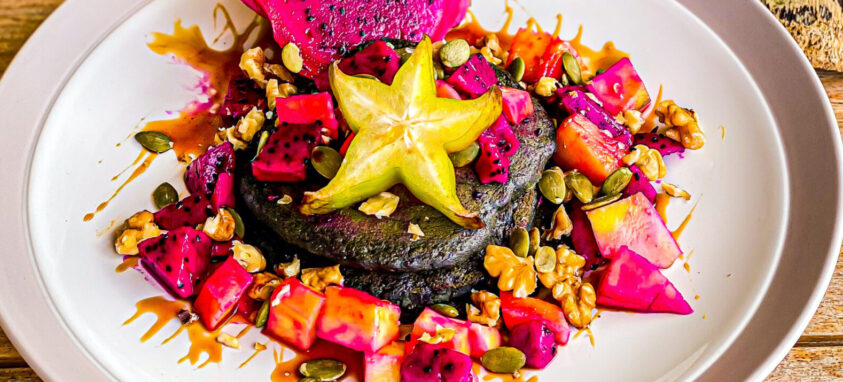 March 28, 2022
Tropical Spirulina Pancakes
Start your day off right with a superfood, plant based, gluten-free and vegan breakfast by our gorgeous Alive Tribe member Eliza Anne.
"I love serving these pancakes with diced dragon fruit, diced mango, crushed walnuts, pumpkin seeds and maple syrup. The topping options are endless. Enjoy – Eliza
| | | |
| --- | --- | --- |
| TIME | SERVES | DIFFICULTY |
| 40 mins | 2 | |
INGREDIENTS
3/4 cup LADANG LIMA Cassava Flour
1/2 Tbsp Baking Powder
1 tsp Sea Salt
1 Tbsp Coconut Oil, melted.
1/2 cup + 3 Tbsp almond milk
1 tsp Apple Cider Vinegar
2 tsp Maple Syrup ( We substituted with Coconut syrup)
2-3 tsp of Spirulina Powder
Extra Coconut oil for cooking
2 flax eggs ***
Flax Eggs
1 Tbsp flaxseed meal (ground raw flaxseed)
2 and 1/2 tbsp water
METHOD
Mix almond milk and apple cider vinegar in a small bowl and set aside – this will help to make pancakes fluffier. In another small bowl mix flax meal and water to make flax eggs. Let both mixtures sit for 10 minutes.
Mix dry ingredients in a large bowl – Ladang Lima Cassava flour, Salt, Spirulina and baking powder
Mix liquid ingredients – milk+apple cider vinegar, flax eggs and add the Maple syrup.
Pour liquid ingredients into the dry ingredients – mix well until no lumps remain.
Cook – pour batter on a preheated greased pancake pan for your desired size of pancakes and cook until bubbles appear and the bottom of a pancake is brown. Flip and cook for another 1-2 minutes.
Serve warm with diced dragon fruit, diced mango, crushed walnuts, pumpkin seeds and maple syrup.