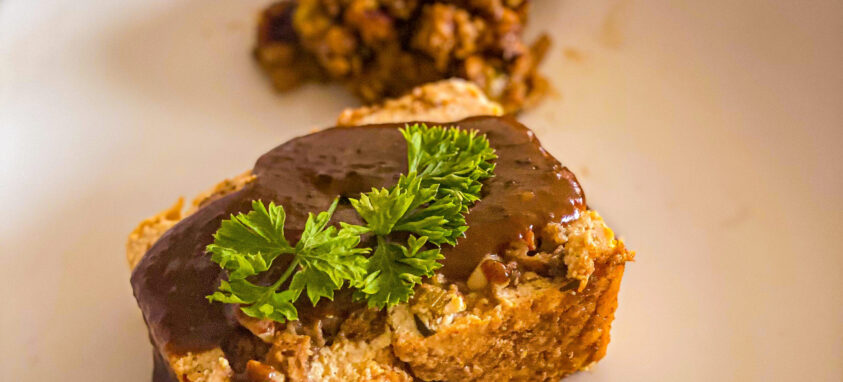 September 26, 2022
The Best Plant Based Thanksgiving Tofurkey Ever
Another fantastic recipe from Alive Tribe member Eliza__Anne
This Gluten Free / Vegan Thanksgiving Tofurkey is approved and tested by carnivores and vegans alike. This scrumptious tofurkey is bound to stand out in your Holiday feast. Last year, I was challenged by a local bali bakery/eatery to come up with a not only vegan, but gluten free Tofurkey. After researching recipes on the web, combining them and tweaking them in the kitchen — this recipe was born. Enjoy and Stay healthy this Holiday.
8 Servings Tofurkey with Gravy
9×5 Loaf Pan
| | | |
| --- | --- | --- |
| TIME | SERVES | DIFFICULTY |
| 1 hour 30 mins + a day | 8 | |
METHOD
Preheat oven to 425°F.
Grease 9 x 5 loaf pan and line pan with parchment leaving a 1″ overhang. Set aside.
Arrange bread and pecans in a single layer on a rimmed baking tray and bake until bread is golden brown and dry, 8 minutes.
Heat 2 Tbsp. oil in a large skillet. Cook onion, garlic, and thyme, stirring, until onion is translucent, 5 minutes.
Add mushrooms and cook until just beginning to brown, 5 minutes.
Add celery and cook, stirring often, until mushrooms are cooked through, 5 minutes more.
Transfer mixture to a large bowl; remove thyme sprigs. Add bread and pecans, toss to combine, and set aside.
Deglaze the pan by pouring 1 CUP warmed stock and 1/3 CUP wine/vinegar into hot skillet and scraping browned bits with a spoon; season with 1 tsp. salt and 1/2 tsp. black pepper. Cook, stirring, until just combined, about 1 minute. Pour over bread mixture, then toss to combine.
Whisk coconut aminos, maple syrup, paprika, cayenne, 2 Tbsp. oil, and 1/2 tsp. salt in a medium bowl.
Break tofu into large chunks. Break up tofu with your hands and press down into a towel-lined colander to drain as much water as possible. Bring ends of towel together, gathering tofu into the middle, and squeeze towel into a ball to expel as much water as possible.
Transfer tofu to a food processor. Add miso, cornstarch, garlic powder, and remaining 2 tsp. salt and 1/2 tsp. black pepper. Blend until smooth, about 30 seconds.
Using an oiled spatula, line bottom and interior sides of prepared pan with two-thirds of the tofu mixture, pressing firmly to create compact 3/4″-high walls. Spoon mushroom mixture into the center and press down firmly. Cover with remaining tofu mixture; smooth surface. Using a pastry brush, brush top generously 1/2 of your soy-maple glaze. *** (If you have leftover stuffing, bake remaining stuffing in a covered dish separately and serve as a side dish.)
Transfer pan to a rimmed baking sheet and bake tofurkey. Brush top with glaze halfway through, until loaf is set and lightly browned, about 30 minutes.
Line another rimmed baking sheet with parchment and place over pan. Quickly but carefully invert pan to turn out tofurkey onto sheet, using parchment to gently remove from pan.
Brush loaf all over with remaining glaze.
If possible Heat broiler and broil until a light brown crust forms, 6–7 minutes.
Cool at least 10 minutes. ** very important to let it set, otherwise your work will crumble if it is too hot ***
Top with parsley and serve with gravy alongside.
Gravy
Heat 1 Tbsp. oil in saucepan.
Add mushrooms, shallot, garlic, thyme, and bay leaves, until mushrooms are tender and beginning to brown, 5 minutes.
Add 3 CUPS stock and simmer, stirring occasionally until reduced by half, 30 minutes.
Strain mushroom mixture through a mesh sieve and set aside in large bowl.
Cook flour and 2 Tbsp. oil over medium heat, stirring constantly, until browned and thickened, 5–7 minutes.
Add 2/3 CUP wine/vinegar, cook 30 seconds.
Whisk in mushroom broth, parsley, 1 1/2 tsp. salt, and 1/4 tsp. pepper and simmer about 10 minutes. Season with salt and pepper.
Prep Ideas
This recipe can be look overwhelming and time consuming. Fear not, Your mushroom stuffing can be made 1 day ahead (it's actually better) wrap tightly and chill.
Your gravy can also be made 2 days ahead; wrap tightly and chill. When you are ready to serve your gravy you can heat in a small pot, whisking constantly. 5min.
**If needed add 1-2 Tbsp of water, until smooth.