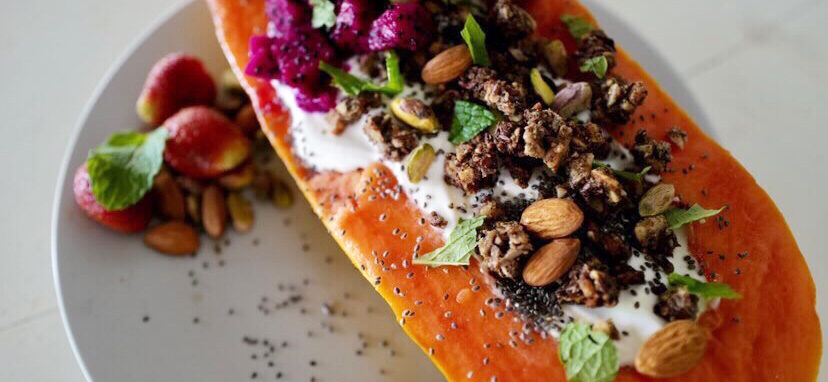 June 11, 2022
Vegan Papaya Boat by Carolin Kotke
We had a visit in the Alive Wholefood Store from beautiful Alive Tribe Member Carolin Kotke who is a Nutrition Coach, Healthy Living Blogger & Breast Cancer Activist. German born and currently living the Island life here in Bali, she shares with us why Enzyme rich foods such as papaya are so important to health.
From Carolin- Want a healthy and nutritious breakfast? I love papaya! Not only is it rich in vitamins, but also in enzymes that help us to better utilize the nutrients 😍
Probiotic yoghurt also strengthens our intestinal flora and granola and nuts provide us with sufficient proteins and chia seeds also contain valuable omega-3 fatty acids. More fruits give an extra kick of vitamins 🙌🏻 You can't start the day healthier 🤗
On enzymes, Carolin Shares: "Many of you will probably not have dealt with it that intensively, but enzymes (which are contained in many foods) are essential for our life. Without enzymes, neither minerals nor vitamins can be utilised in our body. They are therefore extremely important for our metabolism, our digestion, our immune system and thus also strengthen the body's self-healing processes. For example, the use of enzyme therapy for joint problems or faster healing of injuries is common practice.
So why not regularly integrate enzymes into your diet and permanently strengthen your self-healing powers and immune system?
The best known and most common enzyme bombs are papaya and pineapple, which consist of papain (papaya) and bromelain (pineapple) and are often used in the form of tablets within enzyme therapy."
Carolin has a wonderful website and blog where she shares really valuable information, recipes, and news on her upcoming workshops (for our German followers!) but the website translates beautifully into English too.
| | | |
| --- | --- | --- |
| TIME | SERVES | DIFFICULTY |
| 15 mins | 1-2 | |
METHOD
Cut the papaya open, remove the seeds and some of the pulp.
Fill the papaya with yoghurt and granola and fresh berries on top. Et voilà.